CHIEF EXECUTIVE OFFICER

Rosa Chavez co-founded Abet Security Services over 15 years ago. As C.E.O of our company she has ample experience running day to day operations. She has 16 years experience running a business in the private security industry. As a minority and WOSB her goal is to be a role model for other Hispanic women in the private industry of security.

---
Rosa Chavez

---
PRESIDENT OF OPERATIONS

Raul Perez is the president and founder of Abet Security Services, Inc graduated from the Rio Hondo Police Academy program in 1991. Where he then became CEO of Inter City Protection Services. With the skills attained from being CEO he then established his own security firm, Abet Security Services Inc. With the goal of expanding into different fields of protection, Mr. Perez attended the Florida Universal K9 academy with the Florida police Dept. He trained along side Cameron Ford and Kelly Ford, Master K9 Trainers. Raul Perez then became a certified K9 handler and trainer in 2006. He trained K9 Officer George Cocchia from Patton State Prison as well as other Police Agencies. Mr. Perez also founded a youth drug prevention program called Parents In Charge in 2006. This program allows parents the opportunity to hire a K9 service if they feel their child is affiliated with drugs
.
---
Raul Perez

---
G.T.M.S MANAGER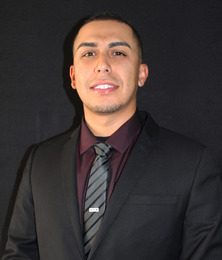 Aaron Perez attended Cal State Fullerton with an interest in business, he has been with Abet Security Services for 10 years. Starting as a security officer and working his way up to G.T.M.S manager, Mr.Perez now works along side with the city of Los Angeles monitoring all Abet Security employee activities. His experience in the field has allowed him to better understand client needs along with employee needs.
---
Aaron Perez

---
OFFICE MANAGER

Stephanie Canal has 7 years experience in the field of office management. She handles all day to day internal office needs. As an active volunteer, student, mother, and wife of a Marine, she strives to continue her business experience and apply her knowledge. She is currently fulfilling her Degree in Business. She works along side with Aaron Perez to exceed our client needs. Her work ethic and knowledge has been a great addition to Abet Security Services, Inc.
---
Stephanie Canal
---
WHAT WE'RE ABOUT
Abet Security Services, inc. provides on-site security along with Executive protection for private communities, hospitals, office buildings and industrial facilities. The company works closely with schools and administrators in providing a safe environment for students, and faculty. Abet Security Services founded "Parents In Charge"a drug prevention program. The program was created to inform students and parents alike about the consequence of using drugs. The Program introduces the ideas and consequence behind the rising epidemic of drug use in schools and presenting the rehabilitation process individuals have to endure due to drug use.
---
---
| | |
| --- | --- |
| Abet Security Services, Inc. is a California Corporation and was established in the year 2000 in Los Angeles, California. Abet Security Services began as a security and patrol service, later expanding into a professional K9 narcotic detection service. Our Services have been featured on KCAL-9 News along with other media organizations. | For the past 15 years Abet Security Services Inc. has been providing services to schools throughout the Los Angeles and San Bernardino counties. Offering services for school events such as dances, football games, and carnivals. During this time Abet Security has proven to be reliable in their service, giving students and faculty members complete satisfaction with our performances. Our primary objective is to provide a safe environment for all. We offer night patrols on campus to ensure that the school properties are protected from vandalism or any unwanted activity. Our patrol officers are on call around the clock and also work hand in hand with local police departments. |